4 Advantages of Synthetic Oil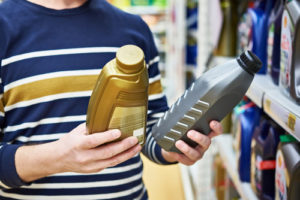 We've all been there. In the oil aisle of the auto parts store or the gas station, staring at the many options for motor oil. On one hand, you have conventional oil and its lower cost. On the other hand, you have the specialized properties of synthetic oil for all kinds of different vehicles.
Is synthetic oil worth the extra money? For the most part, yes it is.
Conventional oil is derived directly from the crude oil they pull out of the ground and sell by the barrel. It provides excellent lubrication for engines at high temperatures and generally maintains its stability over long periods of time. Synthetic oil starts as conventional oil and is modified to improve and specialize its lubricant and protective qualities.
Some blends of synthetic oil are designed for high-performance vehicles like trucks, while others are designed for high-mileage vehicles. Some can even improve gas mileage.
Here are 4 general differences between synthetic and conventional oil:
1. Improved Lubrication
On the whole, synthetic oils are better than conventional oils at keeping your engine properly lubricated. Most synthetic oils have added lubricant properties designed to work at high temperatures, reducing wear over time and making your engine last longer.
2. Better Stability
Stability in the synthetic oil game means viscosity. Over time, all oil tends to lose its thickness. Thin, runny oil can lead to "dry starts," which occur when your car has been sitting for a long time and the oil collects at the bottom of the engine instead of sticking to all the parts it's supposed to, leaving the engine to run unprotected. A synthetic oil with better viscosity will stick better to all engine parts for longer periods of time than conventional oil.
3. Reduced Chance of Oil Breakdown
Oils 'break down' over time, limiting their effectiveness. This is why you change the oil every 3,000 miles. Synthetic oils generally don't need to be changed as often as conventional oils because they don't break down as quickly.
4. Fewer Oil Deposits
All oils leave deposits on engines if not changed on schedule. Mechanics call these deposits "sludge" or "scaling." Synthetic oils don't leave as much residue behind as conventional oils. And when they do, it's usually not as damaging as conventional oil deposits. Conventional oil "bakes on" to engine parts, making it extremely difficult to remove and causing all kinds of engine trouble. Synthetic oil is much less likely to do this.
In the long run, it usually makes sense to invest in synthetic oil for your vehicle. The benefits long-term far out-weigh the possible risks of conventional oil. This doesn't mean you get out of changing your oil on a regular basis. If you use synthetic oil, however, you'll avoid engine deposits and many other risks that conventional oils deal with. Find the perfect synthetic oil specifically formulated to fit your car's engine and deliver the best performance for your unique situation.
Winter Service & Auto Repair For Your Vehicle | Autotailor in Greeley Can Help!
Complete Your Winter Auto Repair Or Maintenance Before The Cold Hits In Greeley, CO
Another Northern Colorado Winter is rapidly approaching and you know what that means: the necessity of a winter auto repair may creep up on you when you're least expecting it! Extreme drops in temperature, subzero wind chill, snow and ice are just some of the challenges we as Colorado drivers face during the upcoming season and your vehicle takes the brunt of it all. If you're due for routine maintenance or repair, it's imperative that those items be completed before the weather gets worse as Front Range weather conditions and drastic weather changes can cause that small issue in your car to rapidly magnify into a much bigger issue. It's also a good idea to complete a simple self-prep to your vehicle to ensure it's in tip-top condition all winter long. Check out these auto service tips from the experts at Autotailor.
Tires Service Center & Sales
Check your tires for thread depth and air pressure. Overtime your tires become worn out and the thread depth becomes uneven. It's important to check the depth to make sure your tire can keep traction and avoid slips on wet and icy roads. Air pressure is just as important! When the temperature drops by 10 degrees your tires drop a pound of air. Check your tires and spare tires when the temperature changes drastically. Need or replace the tires on your car, truck or van? Autotailor provides a complete line of brand name tires all competitively priced. Call us today to schedule your winter auto repair tire service appointment!
Car Battery Service
A battery tends to last up to 3 years. If you're nearing that life cycle you should bring your car to our auto repair center in Greeley, CO to ensure it's fully charged. If the battery isn't fully charged it can freeze and die when the temperature drops. One of our certified Greeley Autotailor technicians can check if you need to recharge or buy a new battery.
Automotive Oil Change
You should regularly bring your vehicle in for routine auto repair services and an oil changes. However, if you haven't kept up with it, the time to change it is now! The oil is what keeps your car running smoothly and efficiently! When first placed in your car it's thin and a light honey color. Overtime the oil becomes contaminated, which causes it to thicken and become sticky. This makes the engine in your car work harder, and may lead to expensive auto service repairs.
Heating System Repair
When you have to get up early on cold mornings you want make sure you're at least warm in the car. Now is the time to make sure that the air system is working properly and that your filters are changed. Not sure what to look for or think your car may be having issues? Give us a call or contact us online today! Autotailor in Greeley, CO can help!
Headlight Replacement
Cold and snowy weather can bring foggy, freezing visibility to your drive. Check and replace your bulbs and headlights at our Greeley auto service center. We even provide headlight restoration services to ensure you have clear sight of the road.