The Top Five Auto Maintenance Apps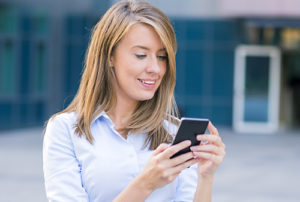 Find yourself glued to your smartphone or tablet these days? Then this article is for you (and your car)! Read along with us as our team of repair experts reviews the BEST vehicle maintenance apps available for download today!
With so many moving parts that require proper maintenance to work in conjunction with each other, your car needs regular tune-ups and checks to run efficiently for thousands of more miles. Without keeping track of all the things that need to be replaced, serviced, oiled, greased, etc., you'll increase your risk of breakdowns and other hazards that make it much harder to operate your vehicle safely.
In the past, if you owned a car, you typically had to record all the maintenance costs and reminders in a little notebook in your car to keep track of everything that needed work. You had to record your gas mileage to calculate how many miles you're getting per gallon and more. Today, there are hundreds of smartphone apps that help you record and track all the maintenance information you need, as well as gas costs, how to deal with a collision and more. Here are five of the best auto maintenance apps out there today:
aCar. If you're looking for a good auto maintenance app, it's best to start with this one. aCar is an incredibly user-friendly app that houses all your car's maintenance information in one place. Once you put in your car's information into the intuitive interface, it can make useful calculations for you. If you put in your car's mileage and the price of gas when you fill up, the app will tell you the cost of running your car per day, per mile. It can also predict when you'll need your next fill-up and chart your gas efficiency. You can also record maintenance costs and dates to see how much your car is costing you and when your next tune-up should be. Available on Android.
Gas Cubby. A fast and easy way to record your gas mileages and costs. Gas Cubby can send you reminders to change your oil, where to find better gas prices, and much more. You can compare your gas mileage with similar vehicles using its data from Fuelly, a community of other auto-minded individuals. Although this is not a free app, the $1.99 price tag is budget-sensitive and well worth its utility. Gas Cubby is available on iOS.
iWrecked. This app streamlines the information gathering process you have to go through after a collision. iWrecked allows you to store every pertinent detail about your auto accident in one place for later use. It conveniently stores this information in four succinct categories: "accident information," "other driver," "police information," and "miscellaneous." With these four categories, you can put in the time and location of the accident, the other driver's insurance information, and any police information or references you need. iWrecked also allows you to upload pictures of the car damage, locate towing or police services near you using GPS, and call your emergency contact right from the app. iWrecked is a free app and is available for both iOS and Android.
Waze. While Waze is more of a navigation and traffic app than a maintenance app, but it's extremely useful for getting around and making the most of your car's fuel efficiency. Waze is a community-based app that gathers user data in real time and makes adjustments to its traffic and navigation services quickly. If you and another Wazer slow down in traffic, the app knows to mark the area as slow or heavy traffic. You can be a passive or an active Waze user, either letting the app gather information while you're driving with it to help other users, or by going even further to report speed traps, road conditions, gas prices, and more. This community approach leads to faster updates on traffic and road conditions than a standard Google Maps app. Free for both Android and iOS.
Openbay. This app is incredibly useful for scheduling maintenance and tracking the services you need to have completed. Openbay lets you search for automotive service providers near you and compare maintenance quotes. You can schedule maintenance appointments right there on the app and pay for services as well using it's secure and safe payment system, which lets you earn rewards for your completed services. If you know you need maintenance, but you don't know where to turn, download Openbay. It's free for iOS.
These apps are all effective at helping you keep track of your car's maintenance needs and schedule. Depending on what kind of car you have and how often you use it, some of these apps may be more useful than others for your situation. For example, if you need road conditions for your commute every day, Waze is an excellent option. For a car that needs more regular maintenance to stay on the road than others, an app like aCar is for you.